Last updated
9 months ago
EXCLUSIVE | The success of the 2019 Cannabis World Congress & Business Expo | Boston, Massachusetts
The Cannabis World Congress & Business Expo wrapped up on Saturday, October 26th. Held at the Haynes Convention Center in Boston, Mass., this show is focused on business-to-business within the legalized cannabis industry and is one of three CWCBE Shows held each year. Following the show, attendees and exhibitors claim it to have been a success. Roger DeBonis, Business Development Specialist at the CWCBE said, "The fact that 50% of visitors were new this year demonstrates the continually growing recognition of the industry." DeBonis is proud that the "professional, well-organized show has brought in 3 times the media partners over previous years".
Among exhibitors was the innovative company Verda, an online platform that facilitates same-day, door-to-door delivery of legal cannabis. With a focus on quality and safety, Verda and legal third-party delivery services are an integral key to combating the black market and boosting economy.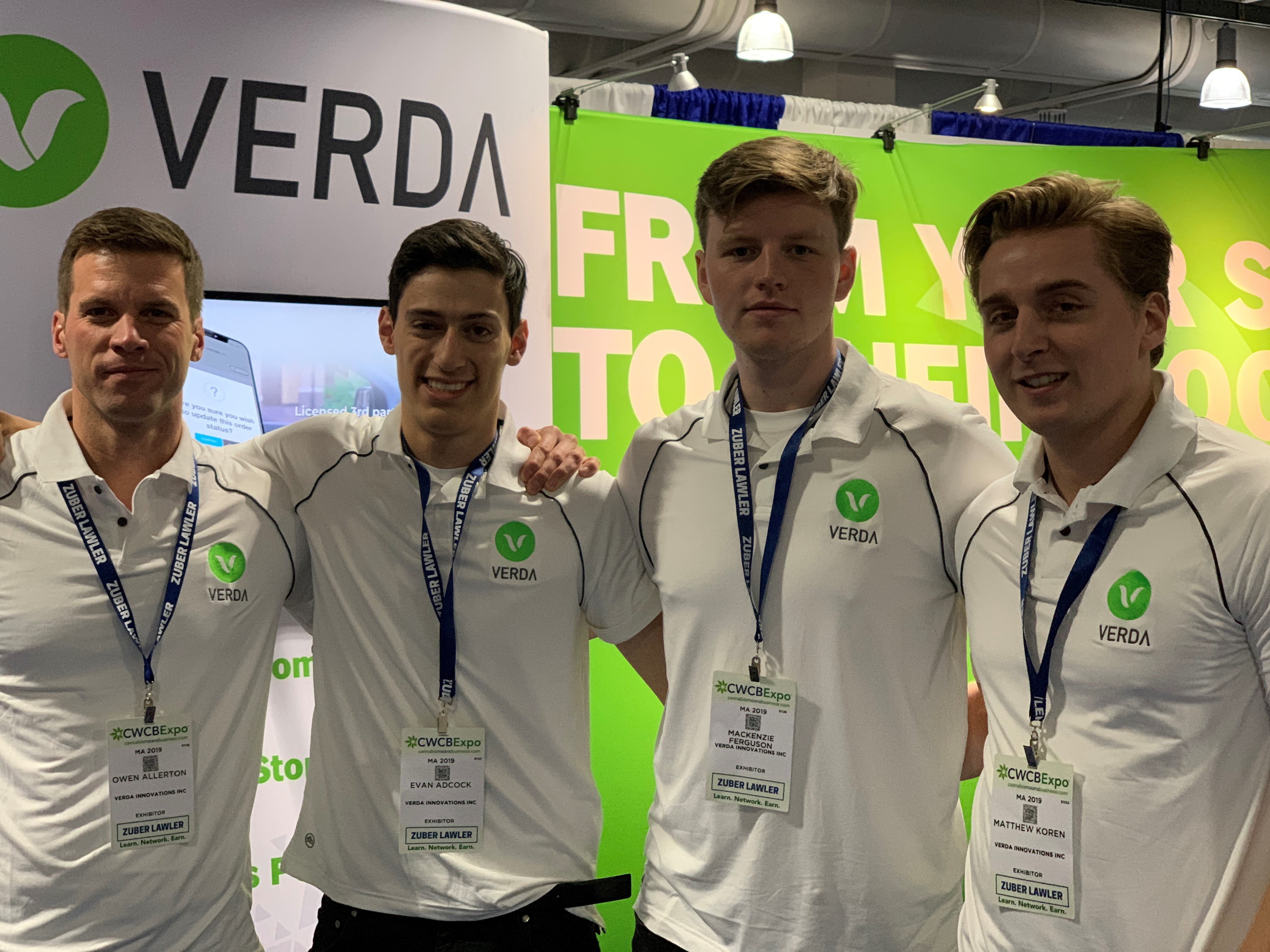 Owen Allerton, Evan Adcock, Mackenzie Ferguson, & Matthew Koren of Verda Innovations Inc. at the 2019 CWCBE
"It's 2019. Today's consumers - Millennials specifically - expect to be able to pick up their phone, place an order, and enjoy the gratification of almost instant delivery.
In a startling analysis of California's cannabis retail market, illegal sellers now outnumber regulated businesses almost three-to-one. These challenges around access are extremely unfortunate, given that cannabis consumers have publicly acknowledged the importance of quality and safety when choosing their suppliers.
Places like Massachusetts, San Francisco and Saskatchewan are bucking the trend, allowing legal distributors to use licensed third-party couriers to provide door-to-door delivery. While the price point is still higher for legal cannabis, offering same-day delivery and a guarantee that the cannabis will be untainted and of the highest quality is important to cannabis users.
These third-party couriers have the unique opportunity to revolutionize the cannabis industry by guaranteeing consumers a safe, quality-tested product, delivered conveniently to their homes. Door-to-door delivery will empower legal retailers to grow and expand their businesses while eradicating North America's dangerous and illegal drug distribution network."
- Evan Adcock, Co-Founder and CEO of Verda
Other noteworthy exhibitors at the CWCBE in Boston included:
Kaya Packaging is an industry leader, offering custom packaging that allows you to customize your design, material, size and print to produce impactful packaging that works for you.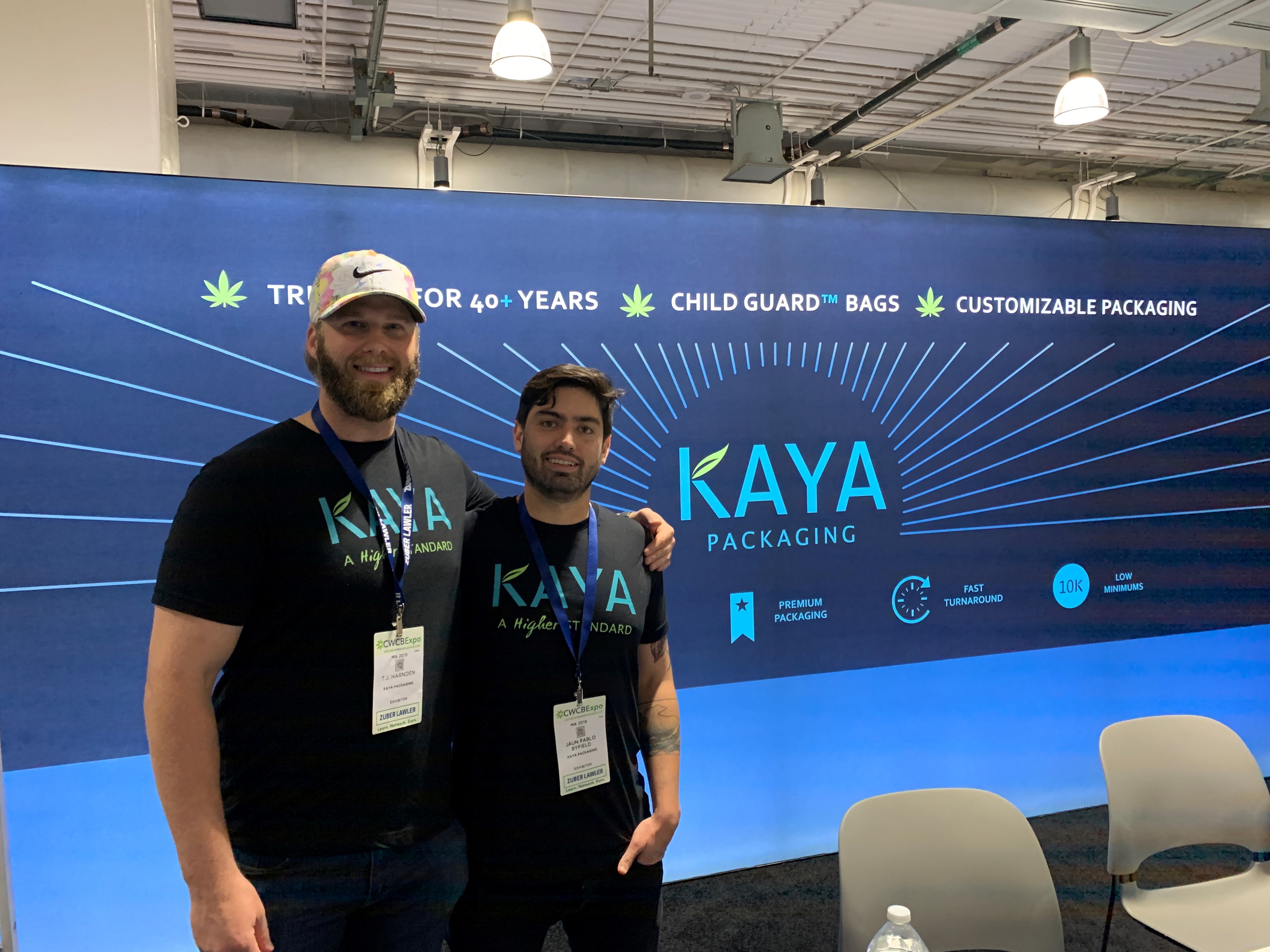 T.J. Harnden & Jaun Pablo Byfield of Kaya Packaging at the 2019 CWCBE
"Our mission it to provide safe, sustainable, and cost-efficient packaging. Being a domestic manufacturer for over 35 years has taught us how to lead the industry in flexible film packaging. As leader, we provide the most premium packaging on the market with the highest wide-web resolution available and endless customization options."
PotGuide is a comprehensive directory to the world of recreational and medical marijuana.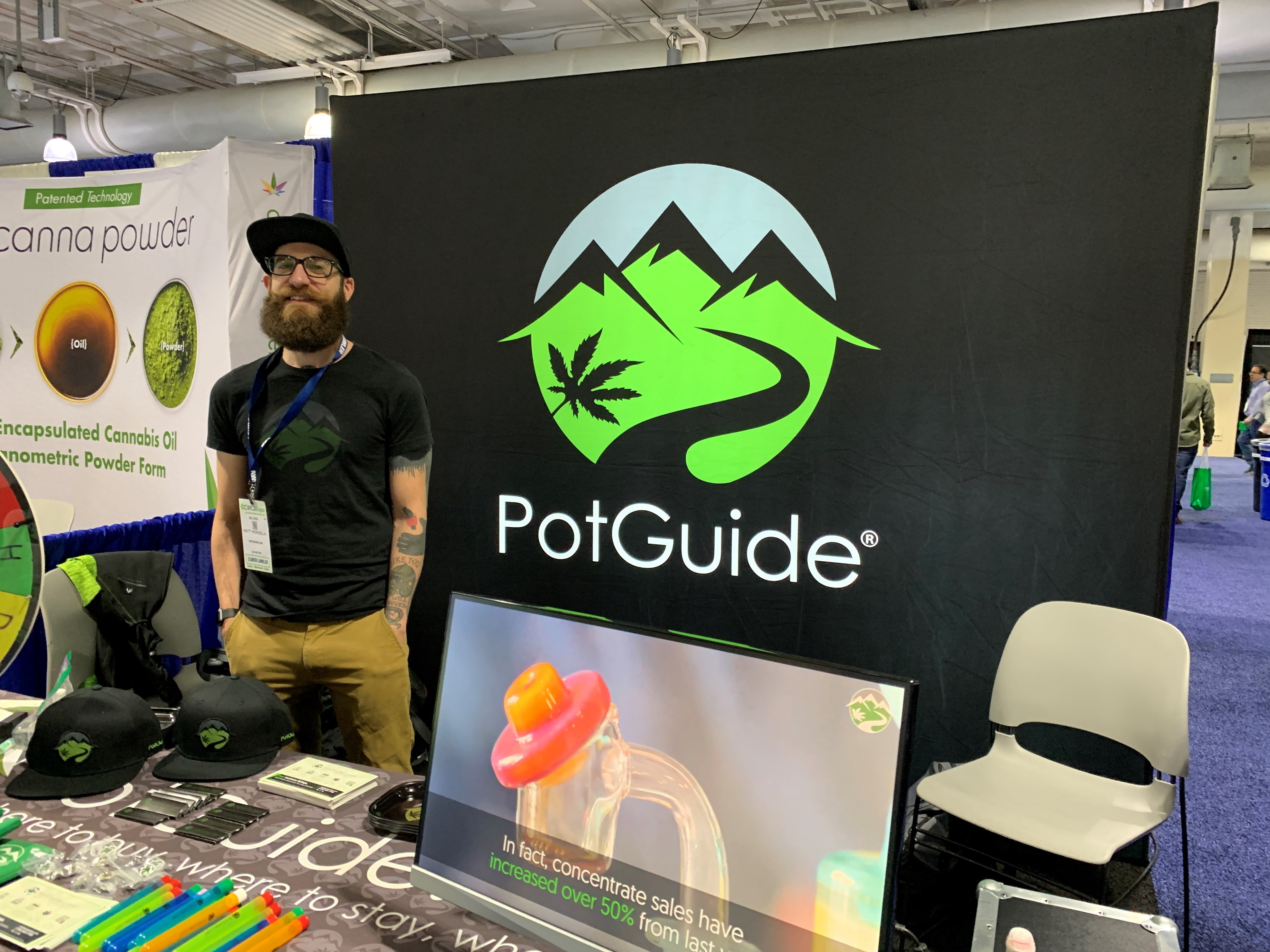 Matt Mongelia of PotGuide at the 2019 CWCBE 
"PotGuide is here to help you navigate the maze of legalized marijuana. We provide you with a complete dispensary directory, 420-friendly lodging options, cannabis-related events and activities, and easy to digest legal information.
The increasing legalization of recreational marijuana across the country has many people asking questions about the cannabis industry. Because of the overall lack of resources online, we created this website for you – the weed enthusiast. Although laws are still being hashed out and the cannabis industry continues to grow at a rapid pace, it's our hope to provide you with useful, comprehensive information to keep you informed and well-prepared for your next trip."
The Cannabis Today Podcast is a professional audio platform for the cannabis industry, community and culture. They cover topics like cultivation, investment, processing, lifestyle, marketing and so much more.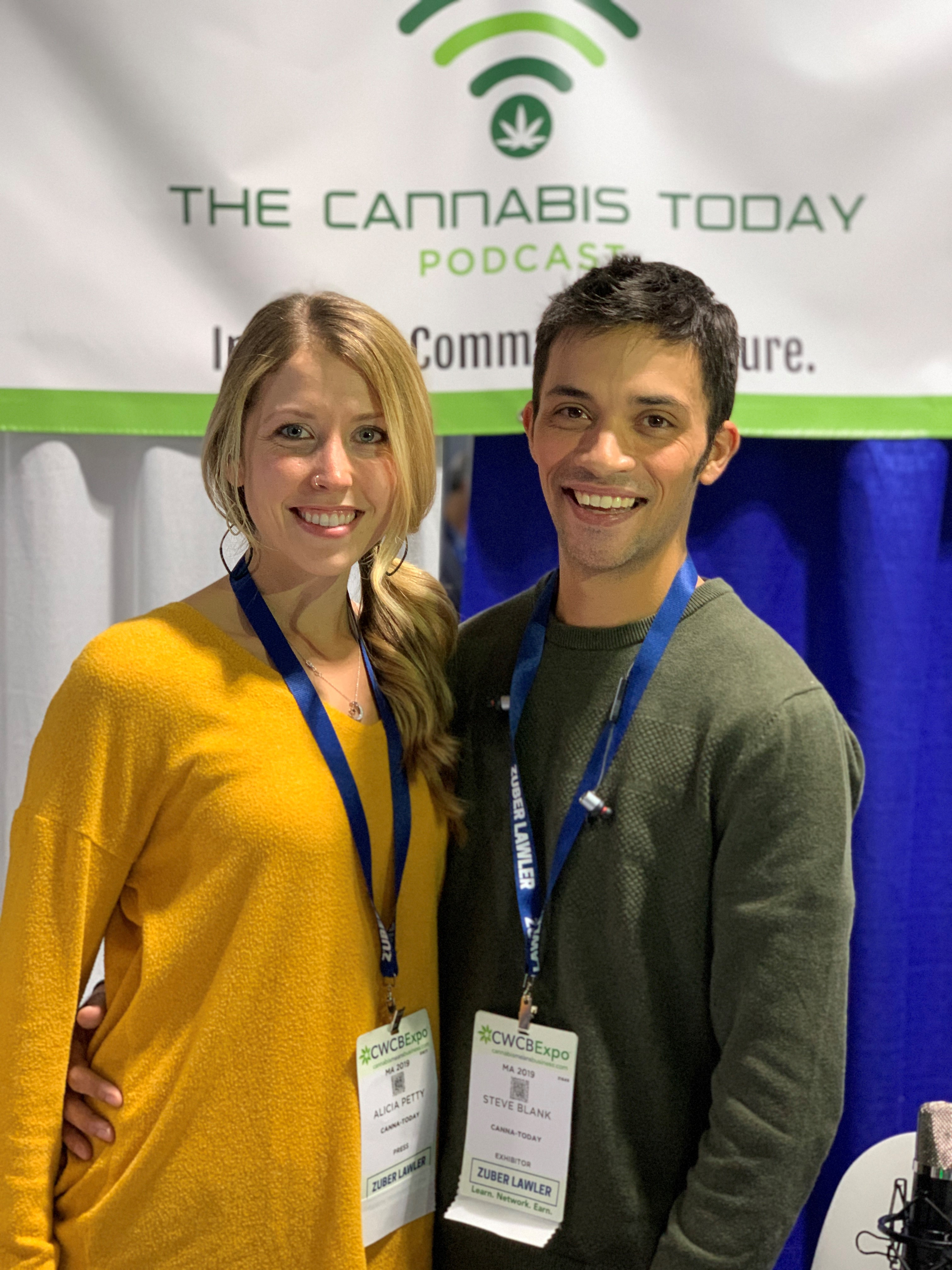 Alicia Petty & Steve Blank of Canna-Today at the 2019 CWCBE
Women Grow was created to connect, educate, inspire and empower the next generation of cannabis industry leaders by creating programs, community and events for aspiring and current business executives. Founded in 2014 in Denver, Women Grow is a for-profit entity that serves as a catalyst for women to influence and succeed in the cannabis industry as the end of marijuana prohibition occurs on a national scale.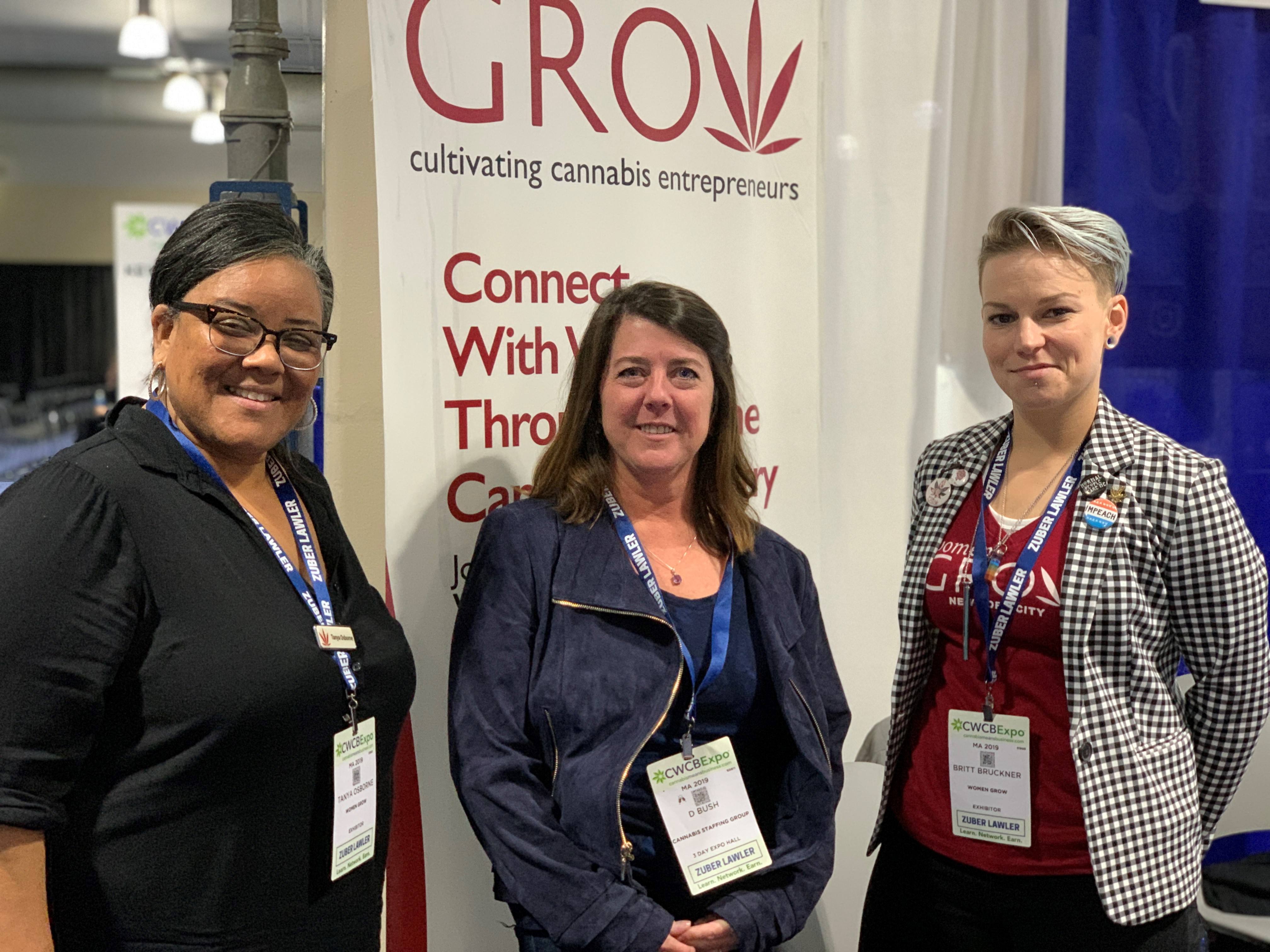 Tanya Osborne & Britt Bruckner of Women Grow with Janine Bush of the Cannabis Staffing Group (middle) at the 2019 CWCBE
Up next for CWCBE is New York in May, and Los Angeles in September, 2020. 
Written and published by High Green News